Simcoe County Student Transportation Consortium
Safety Tips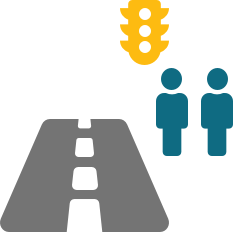 "Be Seen, Be Safe"
As daylight hours shorten, please be sure students walking to and from or waiting at their school vehicle stops remain visible. They should also stand a safe distance from the driven portion of the road.

The Ontario Ministry of Transportation identifies the following tips for waiting for the school vehicle 'The Safe Way':

Wait for the bus at a safe place away from the road.
Wait for the bus to stop before approaching to get on.
Remember, if you can touch the bus, YOU ARE TOO CLOSE!
Subscribe to Receive Delay
Notifications for your School Vehicle
Sign up now to receive email notifications for delays of 15 minutes or more for your school vehicle route.